Location
Directions: Royal Albert Hotel is located within the heart of Brisbane on the corner of Albert Street and Elizabeth Street. Only walking distance from Brisbane City, it is the perfect location to discover what Brisbane has to offer.
On-site Parking: When driving down the one-way road of Albert street, there is a green gate located on your right-hand side which leads to our onsite parking.
Valet parking is available onsite (subject to availability) for only $22 p/n. We can take cars that are under 2 tonne, 1.8 metres high, and 5 metres long.
Myer Parking: If your car exceeds these dimensions, or on the rare occasion our car park is full, we also have an arrangement at the Myer Centre for $20.00 per night. This is a self-parking facility located across the road from the hotel.
Airport Shuttle: Con-X-ion shuttle buses offers transport to a stop at Elizabeth St (across the road from the hotel) for $20.00 per person. They can transport from both international and domestic airport. This service must be booked 24 hours in advance. Tickets are available at the airport, or directly through our reception team.
If you would like us to book in advance for you, please kindly advise your flight details and contact number.
We'd also like to recommend Ozscott Limousines, as a very reliable and friendly service at just a $55.20 flat rate for a sedan from the Airport directly to the hotel. There is also a bus option for a flat rate of approx. $80.
If you would like to book a car with them, please advise your flight number and time of arrival, and we can book this for you. Payment is taken by Ozscott on the journey.
ROAD CLOSURE NOTICE
Cross River Rail is a new development project for the public rail line in Brisbane city, which includes 5.9 km of twin tunnels under the Brisbane River and CBD. Since mid-September 2019, Cross River Rail Project has started establishing the Albert Street station site in preparation for major tunnel and station construction activities. This process has involved the permanent closure of Albert Street between Charlotte and Mary streets from Monday 30 September 2019 until the construction is complete.
Unfortunately, the road closure will cause limited access to Royal Albert Hotel, in which vehicles can only go through Charlotte Street to get to Albert Street where the hotel's carpark entrance is located. Further direction as following, please take Elizabeth Street exit (NOT Margaret Street exit) from the M1 Pacific highway. Continuing on Elizabeth Street, please turn right onto Edward Street then take the next right onto Charlotte Street. Please also refer to the diagram below for more details.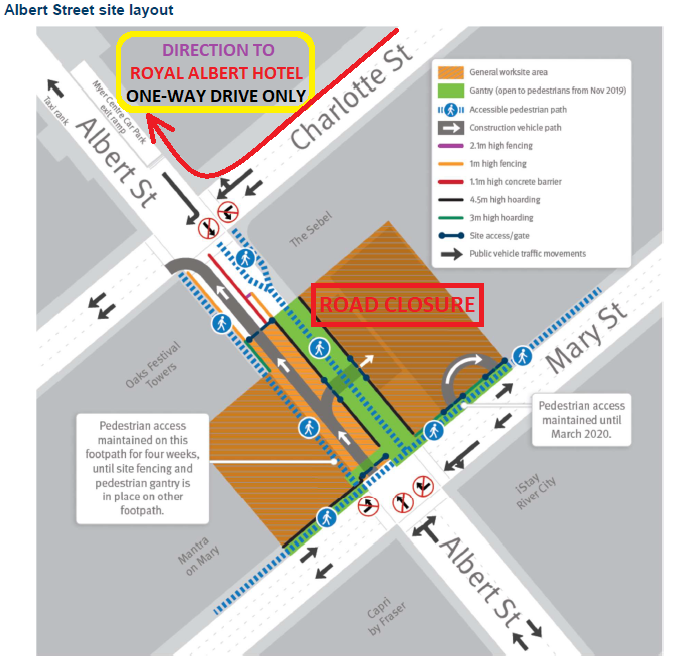 From: